Candytuft
Candytuft is a annual that has clusters of white flowers with narrow leaves that stay green all summer.
They will grow in drierbut bloom better in moist conditions where there is full .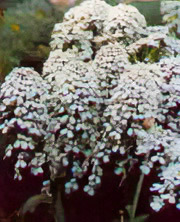 Plant the seeds ¼ inch deep (5 mm) and 3 to 4 inches apart (8 to 10 cm).
The plants reach a height of 12 to 18 inches (30 to 45 cm).
The seeds can be saved or you can let them reseed themselves.
You could try growing them from cuttings if you have favorites that you want to propagate.